BIKINI BLAST!
…Round 2
MEMORIAL DAY WEEKEND | MAY 27TH 2017
Tickets: www.spicenycbikiniblast.eventbrite.com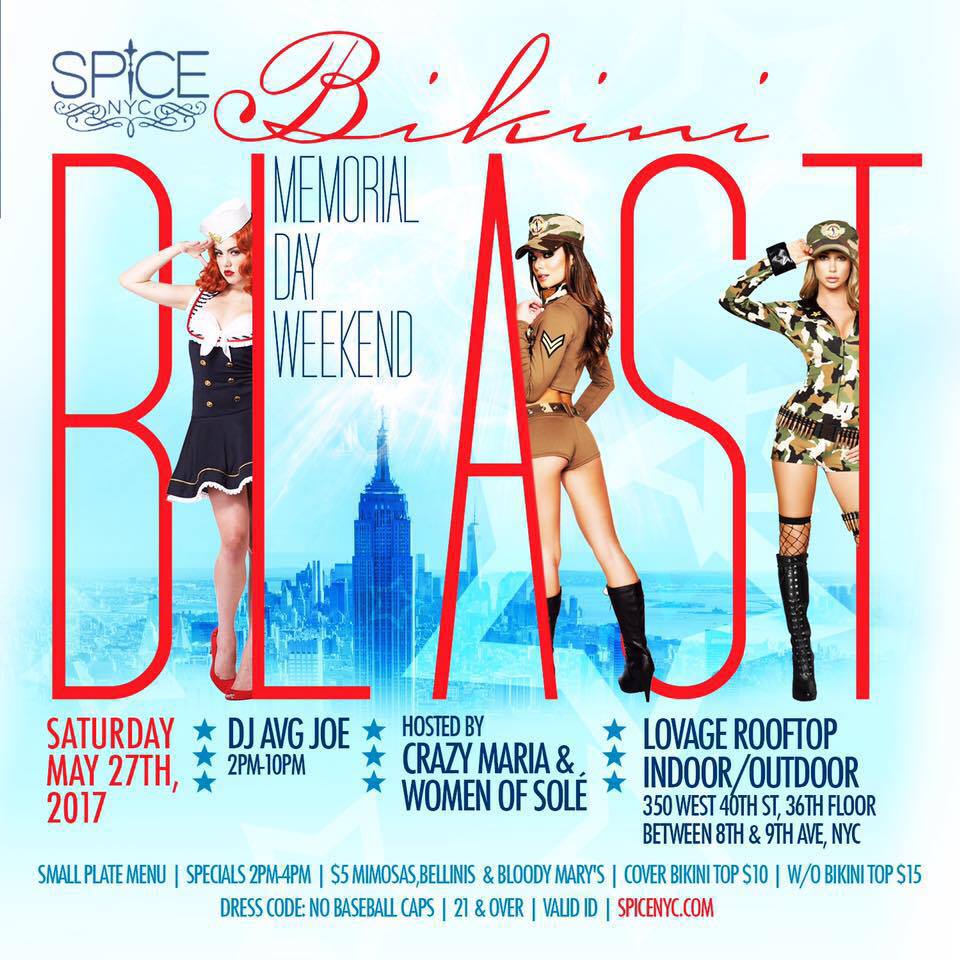 Watch the sun set with friends, party as the moon rises high in the sky at a 4,000 square foot venue with 17-foot floor-to-ceiling windows and a glass roof, Lovage is truly a sight to behold.
…But it's the sights outside that will take your breath away. 360-degree views put on a "couldn't ask for more" display of the best of New York City: the Empire State Building, Times Square, the Freedom Tower, the Statue of Liberty, the Hudson River, and more.
DJ AVG JOE
Run Time: 2pm-10pm
Hosted by Crazy Maria of Cherry Lips & Girly of Sole'
Small Plate Menu
$18 Burratta , balsamic glaze, Baguette
$18 Margherita Pizza, Tomato, Bechamel, Basil
$16 Crispy Chicken, Buffalo, Ranch & Sweet Chilli Sauces
$22 Salmon & Quinoa Salad, Curry Vinaigrette
Drink Specials 2pm-4pm $5 Mimosas, Bellinis & Bloody Mary's,
Lovage Rooftop
Indoor/Outdoor
350 West 40th st 36th Floor
Between 8th & 9th Ave
NYC
Cover Bikini Top $10 | W/o Bikini Top $15
Dress Code Stylish, Sexy, NO Baseball Caps | 21 & Over valid id
*SORRY, ABSOLUTELY NO REFUNDS*
SPICENYC.com